Regular price
$172.00 USD
Regular price
Sale price
$172.00 USD
Unit price
per
Sale
Sold out
WHAT'S IN "SUBSCRIBE FOR A HAPPY LIFE"?
5-7% Instant Discount
Fixed Price in Long-term
Scheduled Shipping
Free Storage
How much I save with a Subscriptions of 3 Cases/month(*)?
| Subscriptions Order | Discount | Total Saving |
| --- | --- | --- |
| 2 Subscriptions | 5% off | $25.80 |
| 3 Subscriptions | 5% off | $51.60 |
| 4 Subscriptions | 5% off | $77.40 |
| 5 Subscriptions | 5% off | $103.20 |
| After 6 Subscriptions | 7% off | $165.12 |
(*) 3 Cases/Month is an esimated monthly volume for a restaurant with 50% take-out
WHO SHOULD "SUBSCRIBE FOR A HAPPY LIFE"?

✓ Want to save inventories cost during crazily inflation?

✓ Big dreams but small storage? We've got you covered.

✓ Save time with scheduled-delivery, no more repetitive calls & manual payment.

✓ Enjoy instant discounts hassle-free. Join us for a happier life.
SHIPPING TIME-LINE

We can't wait to get your order processed and shipped out to you!!!
+ MB, ON, QC : 1-3 business days.
+ AB, BC : 2-4 business days.
+ Other provinces: 2-5 business days.
+ USA: 5-7 business days.

For more information on shipping and delivery estimates, check out HERE!
View full details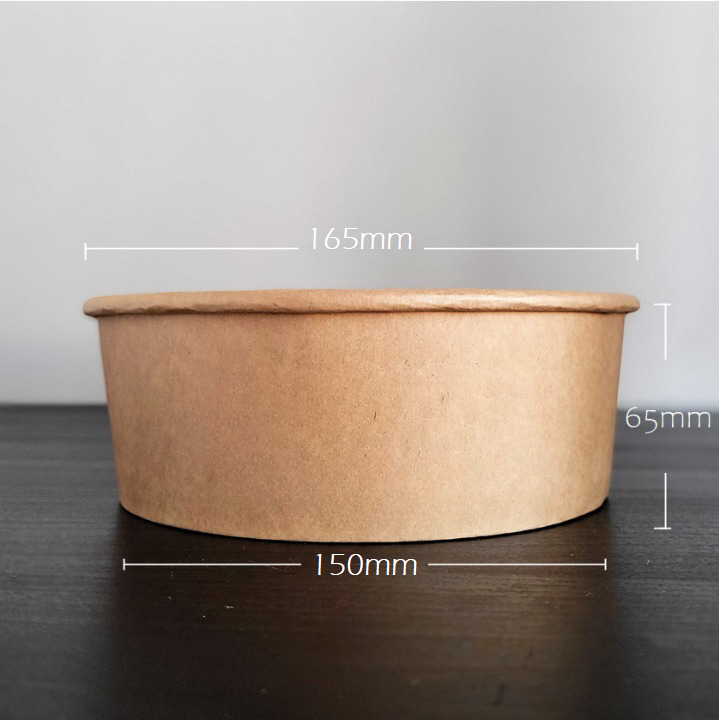 Paper Bowl with Lids 38 Oz
Looking to elevate your dining experience while staying eco-conscious? Look no further; KimEcopak's Paper Bowl with Lids 38 Oz is a great choice for you. This versatile bowl can work with a wide range of foods: hot, cold, wet, or dry. Moreover, it can be recyclable and environmentally friendly.
Available in SET of 300 (Bowl + Lid)
What issues are resolved by Kraft Paper Food Bowls?
Made from renewable, biodegradable material, Kraft Paper Bowls with LIDs offer a reliable and sustainable substitute.

Say goodbye to flimsy and wasteful disposable plastic or styrofoam containers. Our kraft paper containers are designed with a lot of features such as being sturdy, heat-resistant, and leak-resistant will be your excellent opt for you.
Round Kraft Paper Bowls Details
Kraft Paper Salad Bowl Material
KimEcopak's bowls are made from sustainable and environmentally friendly kraft paper. These bowls can naturally break down and return to the environment without causing harm.
Kraft Paper Bowl Application
Ideal for dishes such as fried rice, soups, stews, salads, pasta, stir-fries, fruit salads, puddings, parfaits, cakes,...

Can be used at restaurants, cafes, catering events, food trucks, street food vendors, schools, cafeterias,...
Disposable Kraft Paper Bowl with Lids Features
Environmentally Friendly: Our bowl is made from sustainable and biodegradable materials, which minimizes environmental impact and provides a more sustainable alternative to plastic or styrofoam containers. 
Heat Resistance: KimEcopak's paper bowls are designed with sturdy construction, which can withstand the weight and heat of various foods like hot soups, stews, or other heated dishes without warping or becoming flimsy.
Leak Resistance Construction: These compostable paper bowls have fitted lids, preventing spills or leaks during transportation.
Microwavable & Freezer-Safe: You can easily heat or reheat food directly in this bowl using a microwave oven. Moreover, this bowl is also freezer-safe.
Versatility: Suitable for serving a wide range of food such as soups, salads, rice dishes, desserts, and more.
Paper Bowl with lids 38 Oz 

Specifications
Product dimension:
Item Name

Paper Bowl with lids 38 Oz

Capacity

38 Oz (1100 ml)

Based Materials

Kraft Paper

LID Material

PP / PET

Dimension (Top x Inside Height)

6 1/2''  x 2 1/2" 

165mm x 65mm

Color

Kraft

Design

Plain

Shape

Round

Quantity Per Case

300 SET (Bowl + Lids)

Special Features

Microwavable & Freezer-Safe (for Bowl)

Product Applications

Noodle / Salad / Rice 

Market Applications

Bakery, Japanese Food, Asian Food, Western Food, Fast Food, Grocery

Use

Hot, Cold, Wet and Dry Food

Custom Logo

MOQ 30,000 for custom Logo.
Kraft Paper Bowls with LIDs | 38 Oz (1100ml) User Guide
Discover the seamless process of integrating these bowls into your food service.
...CHECK-OUT KIMECOPAK'S KRAFT BOWLS ON OUR GUESTS' INSTAGRAM:


Order Kraft Paper Food Bowl with Lids 38 Oz for wholesale pricing
Ready to serve in style? Procure your set of 38 Oz Kraft Paper Bowls with LIDs today and make every meal a sustainable statement!
Not ready? Get your Sample Pack of 25 SET (Bowl + Lids) for TESTING!
Another size? Click to order Kraft Paper Food Bowl with lids 44 Oz
Delivery Time:
Our commitment is prompt processing and shipping, with estimated timelines:
MB, ON, QC: 1-3 business days.

BC, AB: 2-4 business days.

Other provinces: 3-5 business days.

USA: 5-7 business days.
Promotional Program
Experience the benefits of our "Subscribe for A Happy Life", for a Greener Future:
6 Months Fixed Price

Instant 5% Discount

7% Discount from 6th Order

Free Storage and scheduled Shipping

No Minimum Order
The government of Canada banned single-use plastics
Rest assured that these Kraft Paper Bowls align with Canada's regulations on single-use plastics, further enhancing your commitment to sustainability, while the LIDs are made from PP, 100% recyclable plastic.
Enhance Your Branding
Compostable Paper Bowl with Lids 38 Oz can be customized with your branding or logo, elevating your brand's visibility and leaving a lasting impression on customers.
REQUEST CUSTOM LOGO ORDER? CLICK HERE TO ORDER CUSTOM LOGO KRAFT PAPER BOWL
HOW DOES "SUBSCRIBE FOR A HAPPY LIFE" WORK?
STEP 1 | SELECT PRODUCTS
✓ CHOOSE PRODUCTS IN "SHOP".
✓ CHECK PRODUCTS INFOR.
✓ CHOOSE QUANTITY.
STEP 2 | SUBSCRIBE
✓ SUBSCRIBE FOR A HAPPY LIFE(*)
✓ SCHEDULE DELIVERY
✓ ADD TO CART.
STEP 3 | ORDER & RELAX
✓ CHECK-OUT & PAY.
✓ RELAX & HAVE PRODUCT DELIVERED TO YOUR DOOR AS SCHEDULED.
HOW DOES "SUBSCRIBE FOR A HAPPY LIFE" HELPS?
As a valued "Long-Term Business Partners(*), you'll also have access to exclusive perks and savings, including:
✓
6 months fixed-price
✓ Instant
5-7% OFF
✓ Free storage and scheduled shipping
✓ Flexible delivery and cancellation options
✓ No minimum order requirements
(*) Long-term business partner means, aka "Subscribe for a Happy Life" means ordering with our subscription for >3 continuous subscriptions, for a bi-weekly/monthly scheduled-shipping, with free storage, quantity discount & delivery options. Subscription is available on selected products. T&C applies.
Simplifies the long and frustrating shopping process with less than 5 minutes shopping & access all benefits of: fixed-price in long-term, always in-stock, saving your money & saving you tons of times for important tasks, like...business strategy. Stop worry & Start saving!
With KimEcopak, you're ready for no matter what comes next...
LEARN MORE about
"Subscribe for a Happy Life
will benefits your business
"HERE!
WHY SUSTAINABLE FOOD PACKAGING IS IMPORTANT?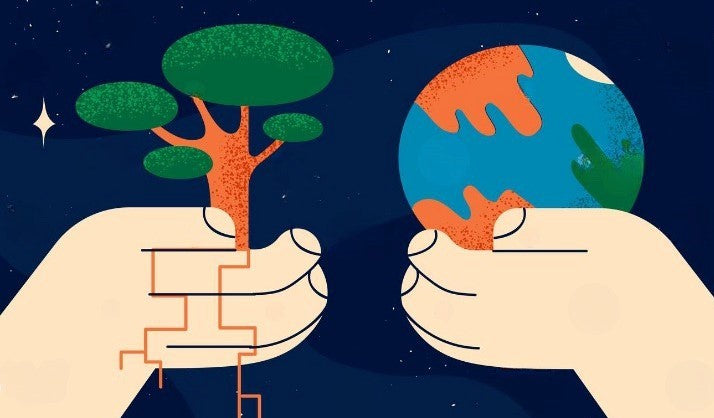 Choosing a selection results in a full page refresh.
Opens in a new window.