Regular price
$6,499.00 USD
Regular price
$180.00 USD
Sale price
$6,499.00 USD
Unit price
per
Sale
Sold out
Uploaded file:
WHY CHOOSE KIMECOPAK FOR CUSTOM-LOGO PRODUCTS?
Biz Branding Boost
FREE Shipping
ZERO Plate Fee & Costs Savings
FREE Design Support
PRE-PRODUCTION & DELIVERY TIME-LINE

We're excited to work on your custom printing project!

A standard lead time for these products is 6-8 weeks from the final design approval.

Express Air-shipping applied to Cutlery Collection & Shopping Bag, with total lead time is about between 3-4 weeks from the final design approval.

We'll keep you informed every step of the way & only start bulk production upon your final confirmation.

For more information on production and delivery estimated time-line for Pre-Order with Custom Logo, click HERE!
FAQs (LOGO DESIGN & APPROVAL)

Is there any extra FEE for Logo Design or Plate Charge?

NOPE. Our Quote is exactly what you will need to pay, with NO extra cost.

KimECopak's Unit Price included FREE design support, FREE Shipping & NO extra plate costs already. (excepted marked as "No logo")

For more questions about Pre-Order with Custom Logo, click HERE!
View full details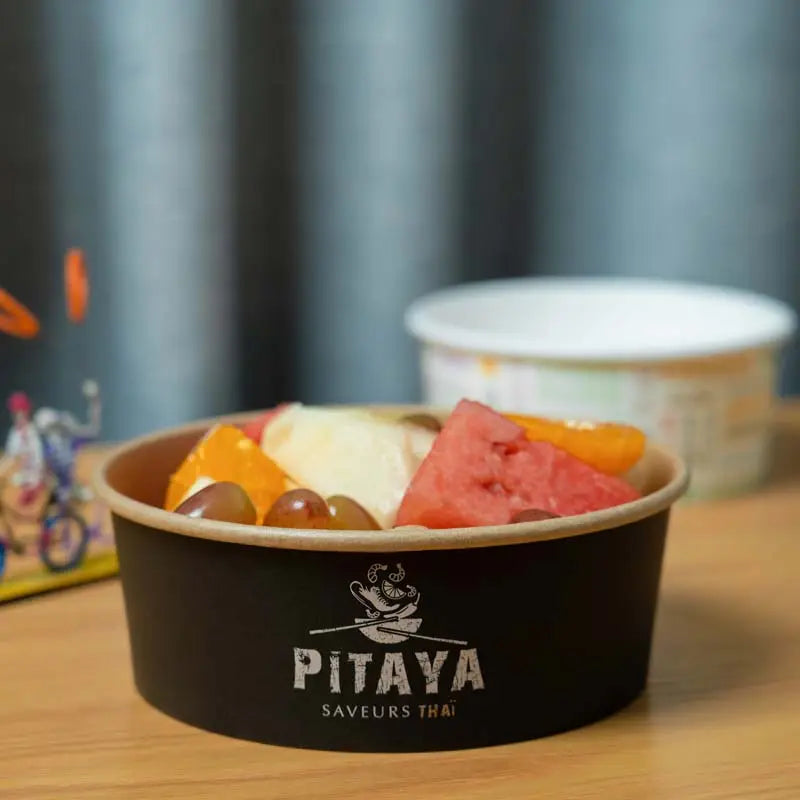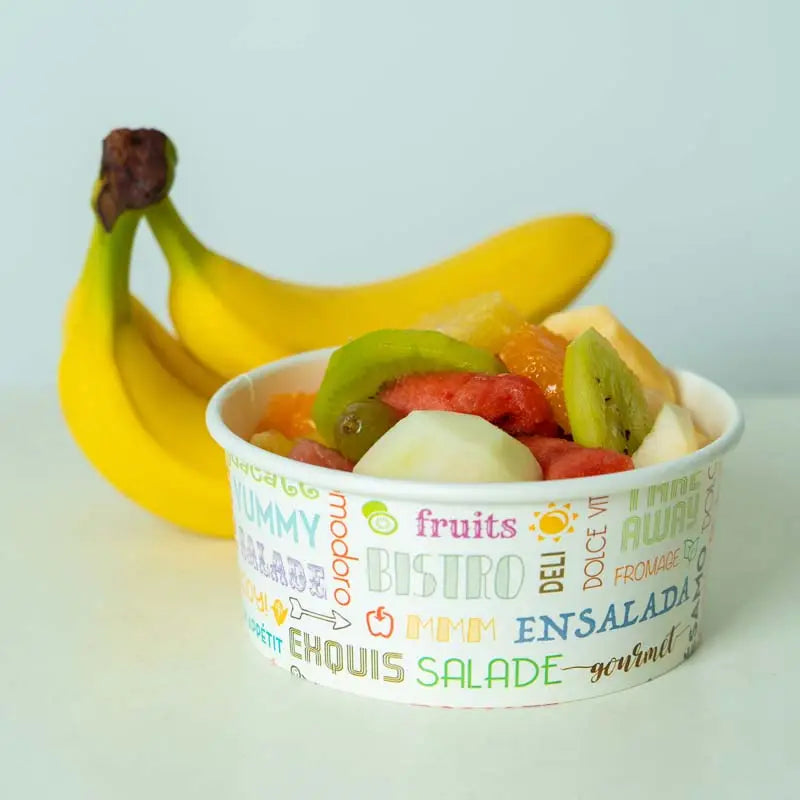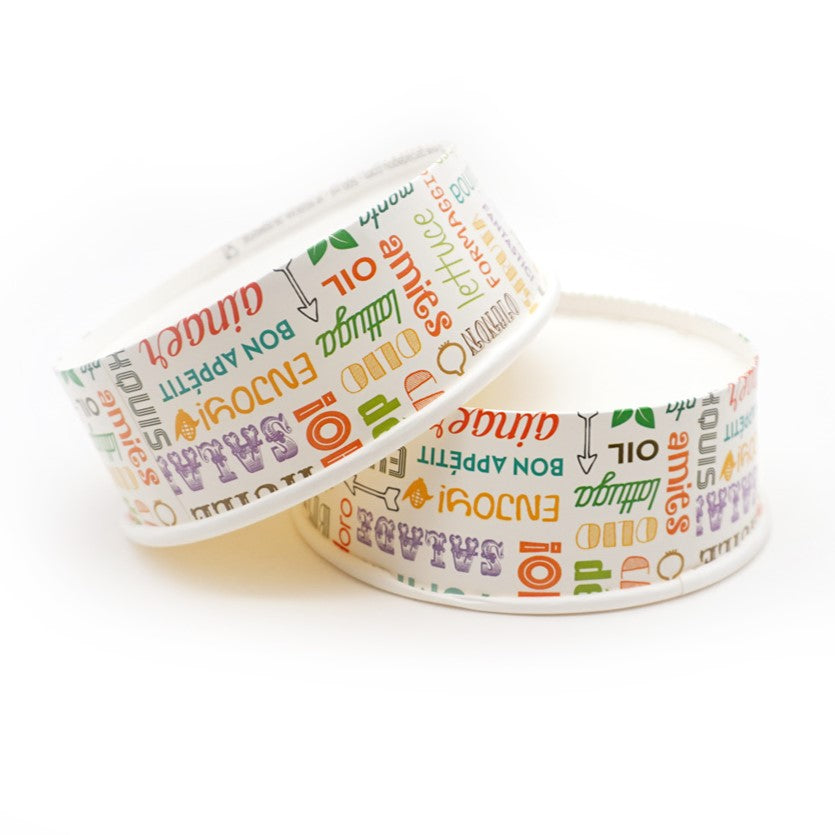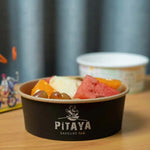 Custom Logo | Paper Bowl with Lids
Introducing our Custom Logo | Paper Bowl with Lids offer a fantastic opportunity for your noodle and salad restaurant in Ontario and Montreal to establish a memorable and eco-friendly brand presence. Discover why these branded bowls are indispensable for your restaurant.

PRE-ORDER | AVAILABLE IN 6-10 WEEKS
Why Custom Logo Paper Bowls Are Important?
1. Brand Visibility: Custom logo paper bowls prominently display your restaurant's name and logo. Every time a customer enjoys a meal from your branded bowl, they're reminded of your restaurant, increasing brand recall and loyalty.
2. Professionalism: Branded bowls convey professionalism and attention to detail. It shows your commitment to delivering a premium dining experience, which can attract more customers and set you apart from competitors.
How Branding Bowls with Restaurant Name Helps
1. Customer Engagement: Custom logo paper bowls encourage engagement. Customers are more likely to share their experience on social media when your branding is involved, providing you with free marketing and exposure.
2. Brand Consistency: Consistency is key in branding. Branded paper bowls ensure that your restaurant's identity remains cohesive across dine-in, takeout, and delivery services.
Features of Custom Logo Paper Bowls
1. Sustainable and Biodegradable: KimEcopak's Kraft Paper Bowls are crafted from sustainable and biodegradable materials. These bowls are the embodiment of responsible dining, aligning perfectly with your restaurant's commitment to the environment.
2. Sturdy Food Presentation: With a Secure Design, our Kraft Paper Bowls feature a sturdy construction that securely holds their shape and your delicious dishes. Say goodbye to spills and leaks, ensuring a mess-free dining experience for your customers.
3. Leak-Resistance on the Go: The leak-resistant lids are designed to fit perfectly, minimizing the chances of leaks or drips during transportation. Your food will arrive at its destination as perfectly as it left your kitchen & minimized Chances of Leaks.
4. Heat and Cold Resistant: Our Kraft paper food containers not only withstand hot soups without compromising their integrity but also keep the food hot for longer periods. They're also freezer-safe, offering flexibility for your busy kitchen.
5. Ideal for a Variety of Dishes: Our Kraft paper bowls are incredibly versatile, suitable for serving a wide range of food, from soups and salads to rice dishes and desserts. These bowls are your all-in-one solution for food presentation.
Custom Logo Paper Bowls 's Dimension
MOQ:
30,000 / 50,000 Pcs 

Quantity

300 SET (Bowl+Lid)/Case

Length x Width x Height

| | | |
| --- | --- | --- |
| 26Oz | | 660ml |
| 36-38 Oz | 155 x 135 x H65mm | 1000ml |
| 44Oz | 185 x 160 x H65mm | 1300ml |

Custom Size with Shorter Height available with MOQ 50,000

Material

Kraft Paper / Card Stock / Corrugated Cardboard

Coating

Matte / Gloss

Color

KRAFT / WHITE

Features

Recyclable / Stackable / Freezer Safe

Style

Single Wall Corrugated

Compartments

1 Compartments

Paper GSM (Thickness)

280 gsm

Type

Food Container / Take-Out Boxes / MOQ Requires

Lead time:

6-10 weeks, from the final confirm on Design.
Canada-Wide Banning Plastic

Rest assured that these Kraft Paper Bowls align with Canada's regulations on single-use plastics, further enhancing your commitment to sustainability, while the LIDs are made from PP, 100% recyclable plastic. 
Elevate your restaurant's branding and dining experience with custom logo Kraft paper bowls from KimEcopak. Order yours today and make a statement in the world of responsible dining! 
STEP 1 - ORDER

OPT #1 | ORDER ONLINE DIRECTLY ON WEBSITE: Easily purchase the desired product and quantity on our website, and simply add them to your cart. At the checkout, choose one of our accepted payment methods such as credit cards, wire transfers, or e-transfers or business cheque, to complete the transaction. Once the payment is confirmed, our team will reach out to you within 1 business day to confirm your logo design and provide a final production timeline. It's fast, secure, and hassle-free!
OR

OPT #2 | ORDER BY REQUEST A QUOTE ENQUIRY: If you have specific design and size requirements for your custom logo needs, you can choose to request a Quote Enquiry. Our team will work closely with you to provide a customized quote that meets your needs. Our listed pricing is based on standard requirements (1 color, 1 side & regular printing), but we can provide you with a personalized quote to match your design and size requirements.
Once the quote is approved and payment is received, we'll contact you to confirm your logo design and provide you with a final production timeline.
Due to a shortage of staffs & also suppliers' chain, it may take us a little longer than usual. Please don't worry, we're doing everything we can to get you the best possible price, and we'll be in touch within 2-7 business days.

STEP 2 | SUBMIT LOGO: LOGO is preferred in vector format as .jpg, .png or high resolution .pdf file. All texts must be outlined.
STEP 3 | DESIGN APPROVAL: Our team will provide a final design based on your LOGO & requirements. You'll need to final approve the design before production begins.
STEP 4 | PAYMENT: Payment is accepted by business cheque, wire-transfer, e-transfer, or most major credit cards. Once payment is received, we'll begin production. 
STEP 5 | PRODUCTION: Our regular lead time for custom printing products is 8 - 12 weeks from the final approved design. If you've requested custom or special size/design, extra processing time will be applied on top of the regular production process.
STEP 6 | SHIPPING/STORAGE: We offer free storage for up to 30 days at our Manitoba Warehouse and Ontario Warehouse if you don't have enough space to store the whole bulk-order. However, there will be a small extra charge for shipping of the remaining products to your delivery address. Once your products are ready for shipping, we'll notify you of the shipment details.