Regular price
$3,373.00 USD
Regular price
Sale price
$3,373.00 USD
Unit price
per
Sale
Sold out
Uploaded file:
WHY CHOOSE KIMECOPAK FOR CUSTOM-LOGO PRODUCTS?
Biz Branding Boost
FREE Shipping
ZERO Plate Fee & Costs Savings
FREE Design Support
PRE-PRODUCTION & DELIVERY TIME-LINE

We're excited to work on your custom printing project!

A standard lead time for these products is 6-8 weeks from the final design approval.

Express Air-shipping applied to Cutlery Collection & Shopping Bag, with total lead time is about between 3-4 weeks from the final design approval.

We'll keep you informed every step of the way & only start bulk production upon your final confirmation.

For more information on production and delivery estimated time-line for Pre-Order with Custom Logo, click HERE!
FAQs (LOGO DESIGN & APPROVAL)

Is there any extra FEE for Logo Design or Plate Charge?

NOPE. Our Quote is exactly what you will need to pay, with NO extra cost.

KimECopak's Unit Price included FREE design support, FREE Shipping & NO extra plate costs already. (excepted marked as "No logo")

For more questions about Pre-Order with Custom Logo, click HERE!
View full details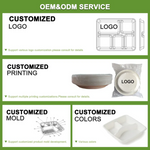 Custom Printed Compostable Plates - Eco-friendly party plate supplies
Are you looking for a solution that can promote your brand to a lot of customers while still saving costs? Let's discover KimEcopak's Custom Printed Compostable Plates - offer an excellent solution that boosts your brand's visibility while being cost-effective when ordering in bulk.

Why should you custom logo on compostable sugarcane plates?
Customizing logos on sugarcane fiber plates offers several benefits:
BRAND RECOGNITION: By adding your custom logo to disposable sugarcane fiber plates, your guests or customers can see your logo or your brand name on the plates, it reinforces your brand identity and increases brand recall.
CREAT DIFFERENTATION: With custom logo compostable plates, you can set your brand apart from the competition. In a market saturated with generic disposable plates, having your logo on sugarcane fiber plates helps you stand out and adds a distinct touch to your plates.
COST-EFFECTIVE: By ordering KimEcopak's Custom Printed Compostable Plates in large quantities, you can save up to 50% on costs. In addition, we commit to providing uninterrupted supply so you don't need to worry about a lack of plates. In addition, custom-branded are a cutting-edge and cost-effective way to advertise your business. 
Compostable Disposable Plates Advantages
Environment-friendly: Sugarcane fiber plates are produced from sugarcane residue, which is an eco-friendly substitute for plastic and styrofoam because they are biodegradable and compostable. By using sugarcane fiber plates, you can reduce our reliance on non-biodegradable materials, minimize plastic waste, and contribute to protecting the environment.
Waterproof and oil-proof: The water resistance and oil resistance of sugarcane fiber plates ensure that they maintain their structural integrity and prevent any leakage or seepage. They can hold various food items, including liquid-based dishes, hot meals, and cold food items.
Microwavable & Freezer-Safe: You can simply reheat meals on sugarcane fiber plates without having to transfer them to another dish because they are microwave-safe. Additionally, you may preserve leftovers or make meals ahead due to their freezer-safe.
Non-Toxic and Safe: These plates are free from harmful chemicals like BPA (bisphenol A) and phthalates, which can leach into food and pose health risks.
Sugarcane Fiber Plate Printed Specification 
| | |
| --- | --- |
| MOQ | 50,000 - 100,000 Pcs  |
| Quantity | 500 - 1000 Pcs/Case |
| Size | 7 / 9 / 10 inches |
| Material | Sugarcane Fiber |
| Coating | None |
| Color | WHITE |
| Logo  | 1 color / 2 color |
| Features | Microwavable & Freezer-Safe  |
| Compartments | 1 Compartment / 3 Compartments |
| Market Applications | Factories, Hospitals, Schools, Employee Canteens,... |
| Lead time | 6 - 8 weeks, from the final confirmation of the design |
Custom logo, design support services & timeline
Step #1 | PLACE ORDER & PROVIDE LOGO (Order online OR request a quote)

Step #2 | MOCK UP DESIGN: 3-5 business days.

Step #3 | DESIGN APPROVAL

Step #4 | PRODUCTION: 2-4 weeks from final design approval.

Step #5 | DELIVERY: 6-8 weeks from design approval.
To view the full pre-order process, please click HERE 
Guaranty
Quality Assurance: Assure top-quality, high-quality printing.

Price Stability: Guarantee no price increases for a set period.

On-Time Delivery: Ensure punctual product delivery.

Satisfaction Guarantee: Commit to customer contentment.

Customization Accuracy: Guarantee precise logo details & ONLY start production when the customer has final approval on the mock-up design.
How to Order Custom Printed Sugarcane Fiber Plate in Bulk
>> If you are ready, CLICK HERE to elevate your branding with our Custom Printed Compostable Plates.
>> Want to contact our team for more information? SUBMIT FORM below. 
Want to order Sugarcane Fiber Plates without the custom logo?
>> Click HERE to order Eco-Friendly 1 Compartment Round Plates Full Size Wholesale
>> Click HERE to order Compostable 3 Compartment Round Plates Full Size Wholesale
STEP 1 - ORDER

OPT #1 | ORDER ONLINE DIRECTLY ON WEBSITE: Easily purchase the desired product and quantity on our website, and simply add them to your cart. At the checkout, choose one of our accepted payment methods such as credit cards, wire transfers, or e-transfers or business cheque, to complete the transaction. Once the payment is confirmed, our team will reach out to you within 1 business day to confirm your logo design and provide a final production timeline. It's fast, secure, and hassle-free!
OR

OPT #2 | ORDER BY REQUEST A QUOTE ENQUIRY: If you have specific design and size requirements for your custom logo needs, you can choose to request a Quote Enquiry. Our team will work closely with you to provide a customized quote that meets your needs. Our listed pricing is based on standard requirements (1 color, 1 side & regular printing), but we can provide you with a personalized quote to match your design and size requirements.
Once the quote is approved and payment is received, we'll contact you to confirm your logo design and provide you with a final production timeline.
Due to a shortage of staffs & also suppliers' chain, it may take us a little longer than usual. Please don't worry, we're doing everything we can to get you the best possible price, and we'll be in touch within 2-7 business days.

STEP 2 | SUBMIT LOGO: LOGO is preferred in vector format as .jpg, .png or high resolution .pdf file. All texts must be outlined.
STEP 3 | DESIGN APPROVAL: Our team will provide a final design based on your LOGO & requirements. You'll need to final approve the design before production begins.
STEP 4 | PAYMENT: Payment is accepted by business cheque, wire-transfer, e-transfer, or most major credit cards. Once payment is received, we'll begin production. 
STEP 5 | PRODUCTION: Our regular lead time for custom printing products is 8 - 12 weeks from the final approved design. If you've requested custom or special size/design, extra processing time will be applied on top of the regular production process.
STEP 6 | SHIPPING/STORAGE: We offer free storage for up to 30 days at our Manitoba Warehouse and Ontario Warehouse if you don't have enough space to store the whole bulk-order. However, there will be a small extra charge for shipping of the remaining products to your delivery address. Once your products are ready for shipping, we'll notify you of the shipment details.