Regular price
Sale price
$1.00 USD
Unit price
per
Sale
Sold out
How much I save with WHOLESALE Order?
MOQ Order
Price/Pcs
Price/Case
Total Paid
Total Saving (*)
420,000 Pcs (1Cont')
$1.10
$1,100
$462,000
840,000 Pcs (2Cont')
$1.06
$1,060
$890,400
$33,600
1,260,000 Pcs (3Cont')
$1.03
$1,030
$1,297,800
$88,200
3,780,000 Pcs (9Cont')
$1
$1,000
$3,780,000
$378,000
(*) Saving compared to MOQ 420,000 Pcs(1 Cont')
PRE-PRODUCTION & DELIVERY TIME-LINE

We're excited to work on your Wholesale Order!

A standard lead time for these products is 6-8 weeks from the final design approval.
Order with MOQ >100,000 Pcs will require longer production times, which make total lead time is between 8-10 weeks.

We'll keep you informed every step of the way & only start bulk production upon your final confirmation.

For more information on production and delivery estimated time-line for Pre-Order with Custom Logo, click HERE!
FAQs (LOGO & PRINTING COST)

Is there any extra FEE for Logo Design or Plate Charge?

NOPE. Our Quote is exactly what you will need to pay, with NO extra cost.
KimECopak's Unit Price included FREE design support, FREE Shipping & NO extra plate costs already. (excepted marked as "No logo")

For more questions about Pre-Order with Custom Logo, click HERE!
View full details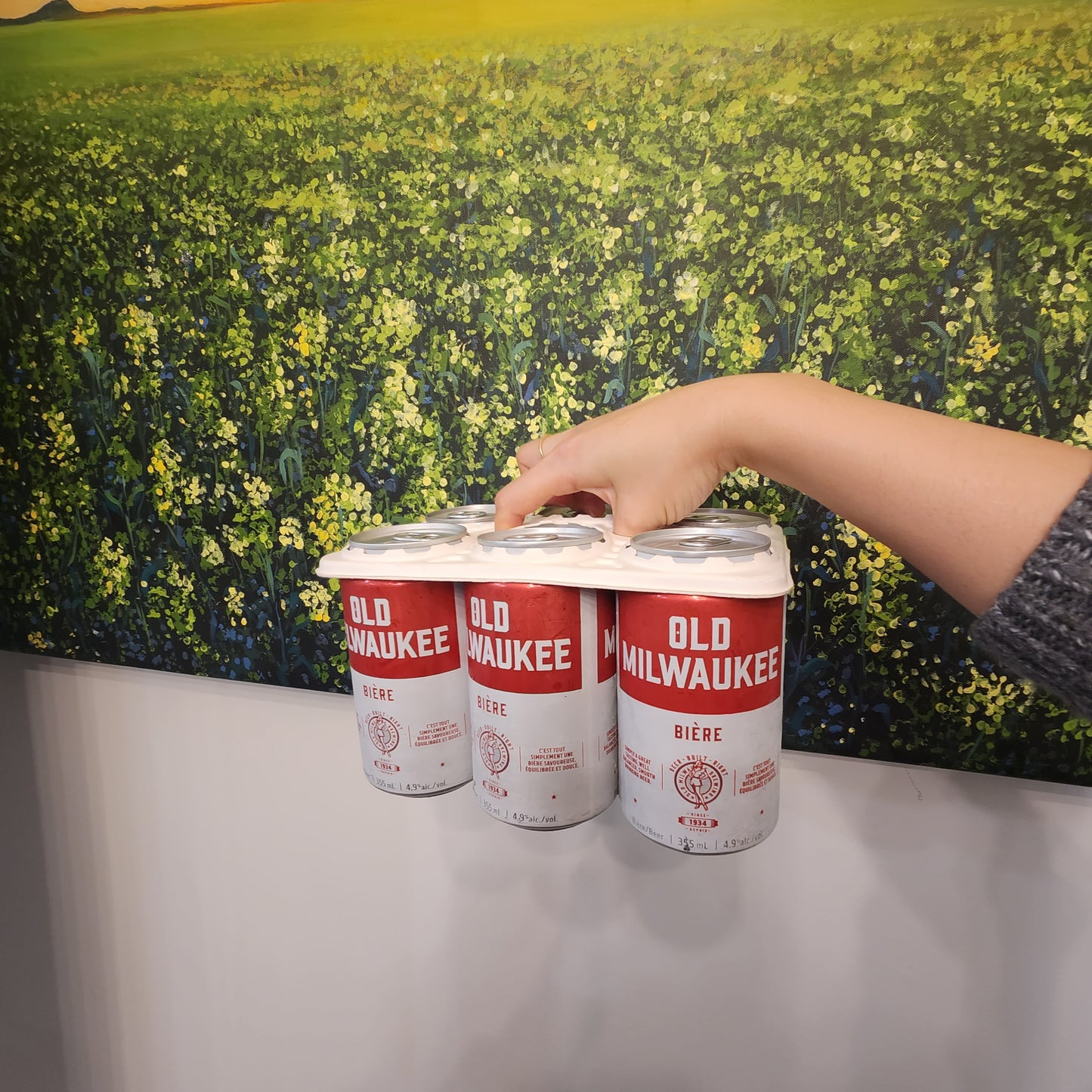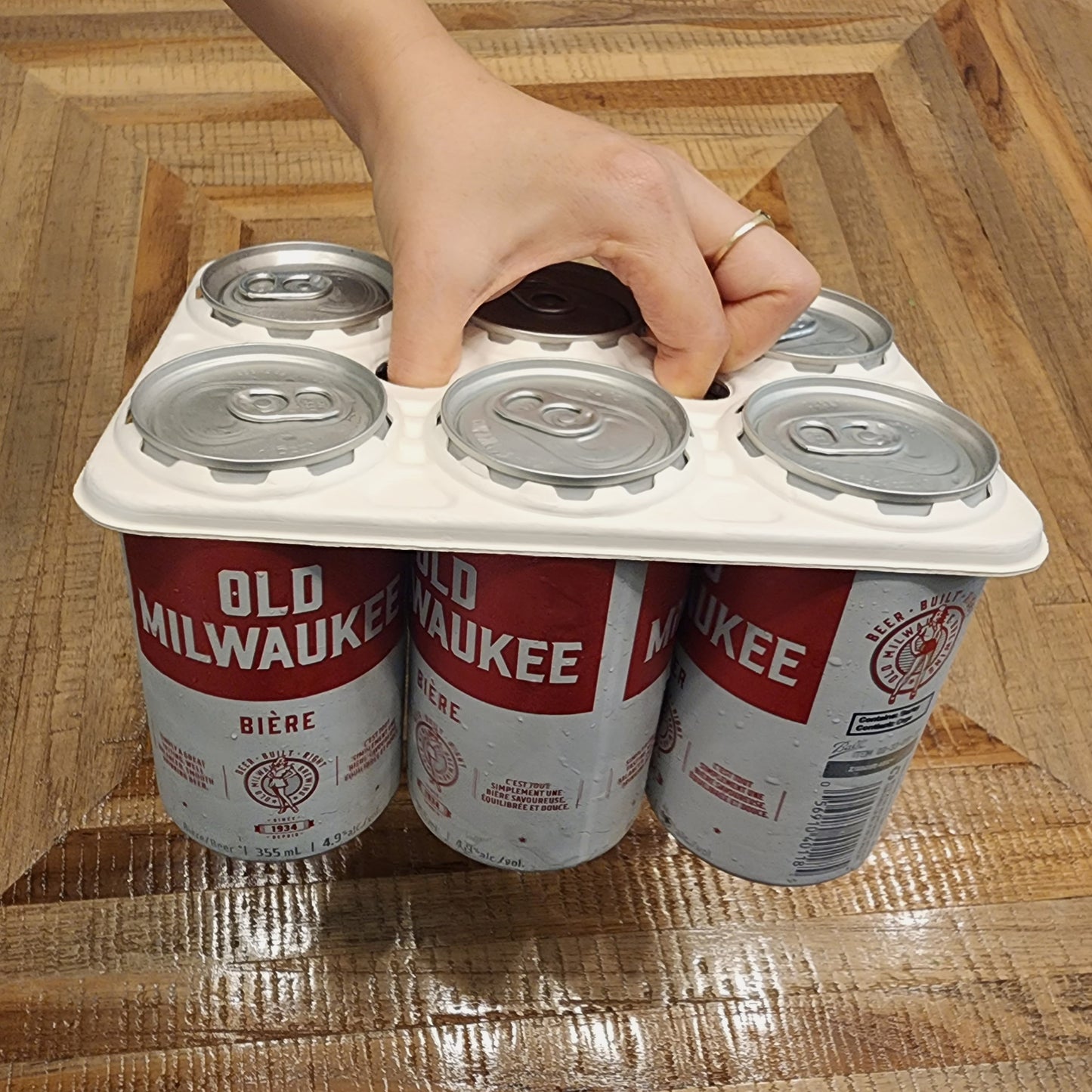 Biodegradable Beer Rings 6 Pack are 100% compostable and biodegradable. It can be the perfect choice for you to contribute to protecting the environment and make an impression on customers due to its new and unique design, unlike any other ring beer in the Canadian market.
Available in Case of 1,000 Pcs
What problems does Biodegradable Beer Rings 6 Pack solve?
Saving marine lives: In fact, the plastic six-pack rings will end up in the ocean. Consequently, they kill over one million seabirds and 100,000 marine mammals each year. 50 percent of sea turtles have consumed plastic and died. This is a dire consequence. Biodegradable beer rings 6 packs are a perfect solution for this problem. Because they are made of sugarcane fiber, are 100% compostable, and can be edible. So marine life can consume them without any issues.
Easy to fit all beer cans: With Kimecopak's new intelligent design, beer rings will be easier to fit beer cans with just a quick 3-second flip, simply by hand, so no more struggling with the traditional rings that can be painful and time-consuming.
Align with the Canadian Government's plastic ban: In June 2023, traditional plastic beer rings were officially banned Canada-wide so Canadians will need alternative beer rings. KimEcopak's 6-pack beer rings will be the perfect substitute for them. Because biodegradable beer rings are a cutting-edge product that is as good for business as it is for the environment potentially. 
Bagasse Beer Can Rings Details
Beer Rings 6 Pack Material
KimEcopak's Beer Rings are made by Sugarcane FIBER (Bagasse)
Beer Rings 6 Pack Application
They are used in multi-packs of beverages, particularly six-packs of beverage cans.
6-Pack Beer Rings Holder Advantages
KimEcopak's Beer Rings are 100% compostable and have no environmental pollution.

They are edible, so it is safe for marine life.

Pulp is made to maintain strength and water resistance is recommended.

New & Unique Design: This unique design sets us apart from others in the North American market, making it easier to fit beer cans with just a quick 3-second flip, simply by hand, no more struggling with the traditional rings that can be painful and time-consuming.

Wholesale Purchase only
6-pack Beer Can Rings Specifications
Product Dimensions:
| | |
| --- | --- |
| Item Name | Beer Rings 6 Pack |
| Base Material | Sugarcane Pulp (Bagasse) |
| Dimension (L x W x H) | 200 x 13.5 x 2.5 mm (8 x 51/4 x 1/4'') |
| Color | Natural Sugarcane |
| Quantity Per Carton | 1000 Pcs |
| Product Applications | Multi-packs of beverages, particularly six-packs of beverage cans |
| Use | Hot and cold. Passes all freezer test & heat testing |
| Compostable | HOME Compostable  |
| Breakdown time: | 3-6 months in natural conditions |
| MOQ for Custom Logo | 420,000 Pcs (one 40 ft container) |
Biodegradable Beer Rings 6 Pack User Guide
Applied by snapping the ring over the lip of the can.
Check out the below video see the new design with a visual demonstration of how it works:
How to order biodegradable six-pack rings
Click HERE to order biodegradable six-pack rings.
If you would like to test a sample, Click HERE
Delivery time
This is a Pre-Order Product which will typically take between 6-8 weeks for delivery & another 3-4 weeks for production.
Promotional program
Special Offer for Manufacturers offering >3 containers or long-term partner distributors.
Submit Enquire Form HERE, if you would love to connect & become our partner.
The government of Canada banned single-use plastics
The biodegradable Beer Ring | 6 Pack is a perfect solution for all Brewing in Canada, especially when traditional plastic beer ring is officially banned Canada-wide on June 2023.  
STEP 1 - ORDER

OPT #1 | ORDER ONLINE DIRECTLY ON WEBSITE: Easily purchase the desired product and quantity on our website, and simply add them to your cart. At the checkout, choose one of our accepted payment methods such as credit cards, wire transfers, or e-transfers or business cheque, to complete the transaction. Once the payment is confirmed, our team will reach out to you within 1 business day to confirm your logo design and provide a final production timeline. It's fast, secure, and hassle-free!
OR

OPT #2 | ORDER BY REQUEST A QUOTE ENQUIRY: If you have specific design and size requirements for your custom logo needs, you can choose to request a Quote Enquiry. Our team will work closely with you to provide a customized quote that meets your needs. Our listed pricing is based on standard requirements (1 color, 1 side & regular printing), but we can provide you with a personalized quote to match your design and size requirements.
Once the quote is approved and payment is received, we'll contact you to confirm your logo design and provide you with a final production timeline.
Due to a shortage of staffs & also suppliers' chain, it may take us a little longer than usual. Please don't worry, we're doing everything we can to get you the best possible price, and we'll be in touch within 2-7 business days.

STEP 2 | SUBMIT LOGO: LOGO is preferred in vector format as .jpg, .png or high resolution .pdf file. All texts must be outlined.
STEP 3 | DESIGN APPROVAL: Our team will provide a final design based on your LOGO & requirements. You'll need to final approve the design before production begins.
STEP 4 | PAYMENT: Payment is accepted by business cheque, wire-transfer, e-transfer, or most major credit cards. Once payment is received, we'll begin production. 
STEP 5 | PRODUCTION: Our regular lead time for custom printing products is 8 - 12 weeks from the final approved design. If you've requested custom or special size/design, extra processing time will be applied on top of the regular production process.
STEP 6 | SHIPPING/STORAGE: We offer free storage for up to 30 days at our Manitoba Warehouse and Ontario Warehouse if you don't have enough space to store the whole bulk-order. However, there will be a small extra charge for shipping of the remaining products to your delivery address. Once your products are ready for shipping, we'll notify you of the shipment details.