Regular price
Sale price
$4.00 USD
Unit price
per
Sale
Sold out
Ready to upgrade Sushi Branch with Custom logo?
Click Here !
WHAT'S IN "SUBSCRIBE FOR A HAPPY LIFE"?
5-7% Instant Discount
Fixed Price in Long-term
Scheduled Shipping
Free Storage
WHO SHOULD "SUBSCRIBE FOR A HAPPY LIFE"?

✓ Want to save inventories cost during crazily inflation?

✓ Big dreams but small storage? We've got you covered.

✓ Save time with scheduled-delivery, no more repetitive calls & manual payment.

✓ Enjoy instant discounts hassle-free. Join us for a happier life.
SHIPPING TIME-LINE

We can't wait to get your order processed and shipped out to you!!!
+ MB, ON, QC : 1-3 business days.
+ AB, BC : 2-4 business days.
+ Other provinces: 2-5 business days.
+ USA: 5-7 business days.

For more information on shipping and delivery estimates, check out HERE!
View full details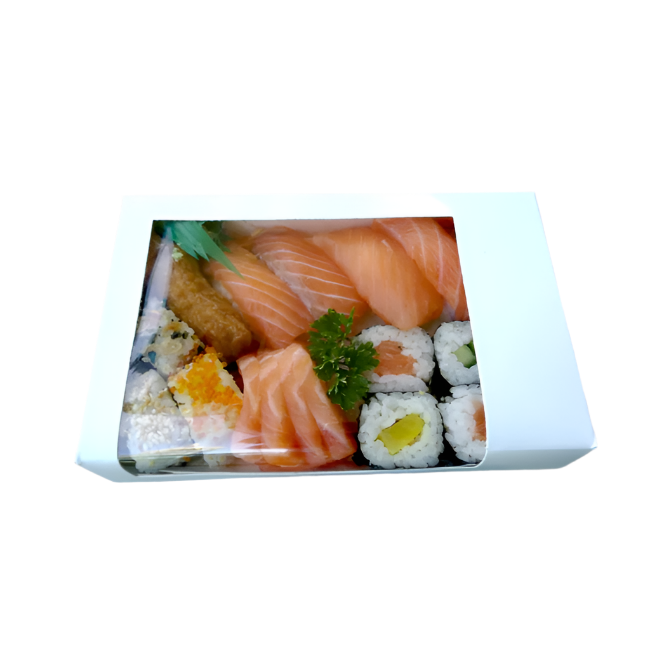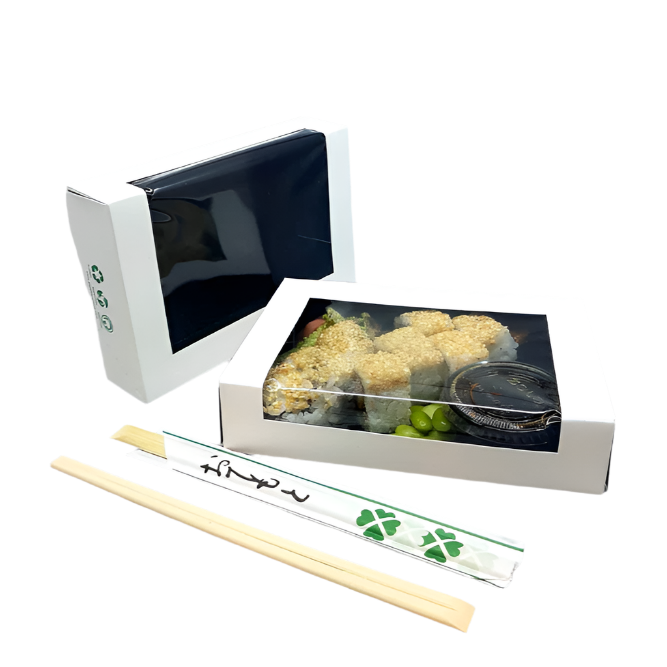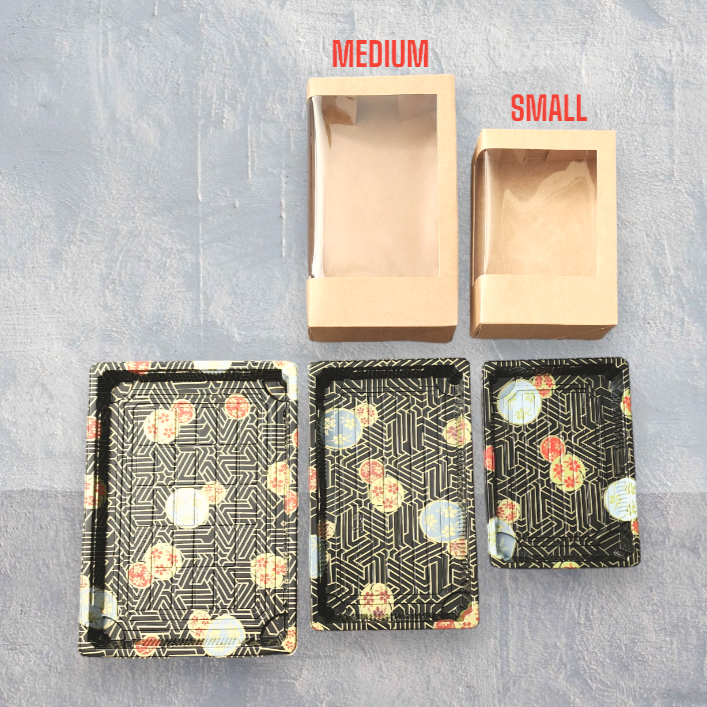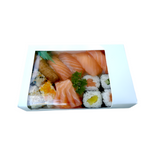 SAMPLE | Sushi Box with Custom Logo | Small & Medium Size
Hey sushi enthusiasts and Japanese restaurant owners! Curious about our Sushi Box with Custom Logo ? Let's dive in!

Why You'll Love Our Sushi Box with Custom Logo Sample?

Imagine a compact box that holds your sushi masterpieces – that's our Sushi Box with Custom Logo Sample for you. It's perfect to give your sushi a comfy home while being kind to the planet. This sample pack of [1 Pcs of Small & 1 Pcs of Medium] is your sneak peek into eco-friendly, stylish sushi serving.


Details that Matter

+ SMALL SIZE: 700ml | 24Oz | 7 x 4.5 x 2'' (Window size: 4.5 x 5'')

+ MEDIUM Size: 1600ml | 45Oz | 9 x 5 x 2'' (Window size: 6.5 x 6'')

Quantity:

 1 Pcs of Small & 1 Pcs of Medium 

Material: Strong KRAFT Paper
For: Sushi, sashimi, and tasty bites
Plus Point: Looks good, good for Earth
SAMPLE available in KRAFT colour. Custom Logo with MOQ can be made in any colour

 

What's Cool About It? 

NATURE-FRIENDLY KRAFT PAPER: Made from nature-friendly kraft paper, these sushi containers are conveniently disposable and recyclable. Ideal for eco-conscious establishments!

IDEAL FOR SERVING SUSHI OR BAKED GOODS: These Kraft take out containers are PERFECT for serving sushi rolls, dim sum, pastries, or baked goods!

GREASE-RESISTANT AND DURABLE: Equipped with a poly-coated interior, these boxes are designed to prevent sauces or oil from soaking through. Built to stay strong against messy foods!

CLEAR WINDOW: Clear-window to complete your food's fantastic look & saving costs for LID compared to other traditional SuShi Box with Lid.

WHOLE SALE CUSTOM LOGO: With MOQ 30,000 Pcs.

 

Add Your Touch Let your brand shine and show your style to your customers HERE!   Start your journey of dishing out fantastic sushi while taking care of nature. Order your sample now and give your customers a taste of your amazing sushi in packaging that's as awesome as your rolls.
HOW DOES "SUBSCRIBE FOR A HAPPY LIFE" WORK?
STEP 1 | SELECT PRODUCTS
✓ CHOOSE PRODUCTS IN "SHOP".
✓ CHECK PRODUCTS INFOR.
✓ CHOOSE QUANTITY.
STEP 2 | SUBSCRIBE
✓ SUBSCRIBE FOR A HAPPY LIFE(*)
✓ SCHEDULE DELIVERY
✓ ADD TO CART.
STEP 3 | ORDER & RELAX
✓ CHECK-OUT & PAY.
✓ RELAX & HAVE PRODUCT DELIVERED TO YOUR DOOR AS SCHEDULED.
HOW DOES "SUBSCRIBE FOR A HAPPY LIFE" HELPS?
As a valued "Long-Term Business Partners(*), you'll also have access to exclusive perks and savings, including:
✓
6 months fixed-price
✓ Instant
5-7% OFF
✓ Free storage and scheduled shipping
✓ Flexible delivery and cancellation options
✓ No minimum order requirements
(*) Long-term business partner means, aka "Subscribe for a Happy Life" means ordering with our subscription for >3 continuous subscriptions, for a bi-weekly/monthly scheduled-shipping, with free storage, quantity discount & delivery options. Subscription is available on selected products. T&C applies.
Simplifies the long and frustrating shopping process with less than 5 minutes shopping & access all benefits of: fixed-price in long-term, always in-stock, saving your money & saving you tons of times for important tasks, like...business strategy. Stop worry & Start saving!
With KimEcopak, you're ready for no matter what comes next...
LEARN MORE about
"Subscribe for a Happy Life
will benefits your business
"HERE!
WHY SUSTAINABLE FOOD PACKAGING IS IMPORTANT?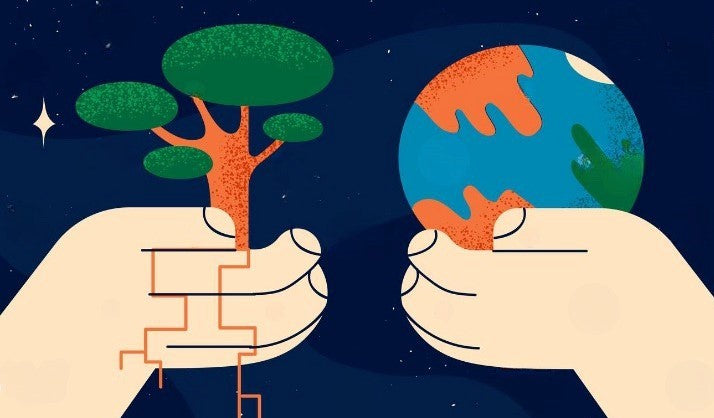 Choosing a selection results in a full page refresh.
Opens in a new window.